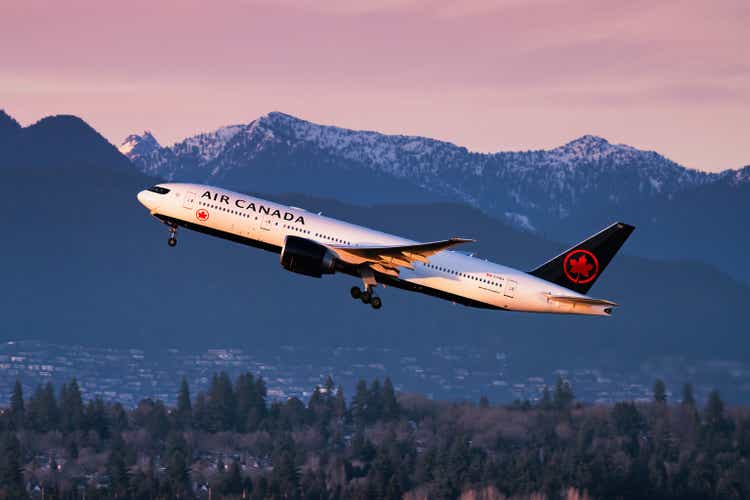 Investment Thesis
I take a long-term bullish view of Air Canada on the basis of continued growth across the Atlantic segment.
In a previous article back in October, I made the argument that Air Canada (TSX:AC:CA) has the capacity to see further upside on the basis of strong recovery in earnings and reduction of net debt. However, I also made the argument that the upside will significantly hinge on Air Canada's capacity to further bolster international passenger revenues going forward.
Since then, the stock has descended to a price of $18.08 at the time of writing:
The purpose of this article is to assess whether Air Canada has the ability to see continued growth from here taking recent performance into consideration.
Performance
When looking at Q3 2023 earnings results for Air Canada (released on October 30), we can see that adjusted diluted earnings per share has seen strong growth from $1.07 in Q3 2022 to $3.41 in Q3 2023. Additionally, we also see that operating revenues have seen growth of 19% over the same period.
I had previously commended Air Canada for managing to increase its passenger revenue per RPM for the first two quarters YoY. We can see that this trajectory has continued – with the same up to 23.3 cents in the most recent quarter as compared to 21.8 cents in the prior year quarter.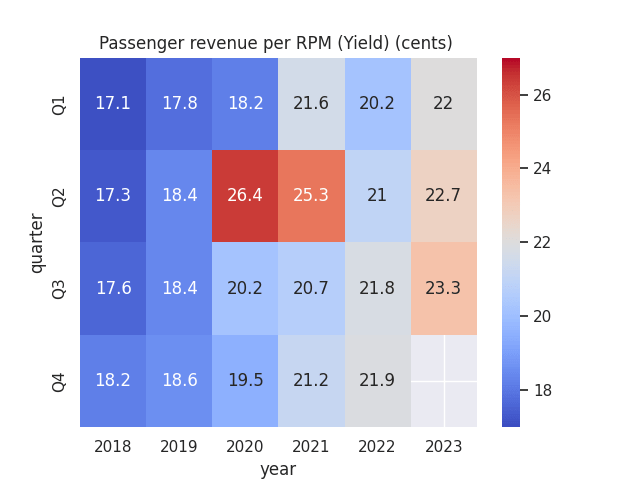 I had also made reference to the fact that the fall in Air Canada's net debt to adjusted EBITDA was quite encouraging – with the same having fallen from 5.1 in December 2022 to 1.7 in June 2023.
For this quarter, we see that the net debt to adjusted EBITDA ratio has fallen further to 1.4 – Air Canada credits a higher degree of operating cashflows as well as $2,120 million of repayments made in the first nine months of 2023 – which includes $1,112 million from the prepayment of Airbus A220 debt as well as $127 million which had previously been used for the acquisition of four Boeing 787-8 aircraft.
From this standpoint, performance in the most recent quarter has been encouraging on the basis of growth in both revenues and earnings, as well as a reduction in net debt to adjusted EBITDA.
My Perspective
As regards my take on the above results and the implications for the growth trajectory of the stock going forward, I had previously made the argument that growth in international passenger revenues will be particularly crucial for Air Canada to continue seeing upside from here – as this segment of the market has come to account for a larger portion of overall revenue as compared to that of domestic.
We can see that when compared to September 2019, September 2023 showed a significantly higher share of revenue for the Atlantic region:
| | | | | |
| --- | --- | --- | --- | --- |
| Regions | September 2019 ($) | September 2019 (% share) | September 2023 ($) | September 2023 (% share) |
| Canada | 1550 | 30.02% | 1515 | 25.85% |
| U.S. Transborder | 1000 | 19.36% | 1127 | 19.23% |
| Atlantic | 1624 | 31.45% | 2201 | 37.55% |
| Pacific | 741 | 14.35% | 704 | 12.01% |
| Other | 249 | 4.82% | 314 | 5.36% |
Source: Figures sourced from Air Canada Q3 2019 and Q3 2023 Consolidated Financial Statements and Notes. Percentages calculated by author.
With that being said, we have also seen that passenger revenues for the Canadian market (in Canadian dollars in millions) have virtually returned to September 2019 levels while that of the Atlantic has seen over 35% growth over the period in question.
In my view, a primary growth driver for the stock going forward will be the degree to which Air Canada can continue growing revenues across the Atlantic segment, and it is my opinion that the company's continued addition of routes across this market will allow it to see further growth going forward.
For instance, Air Canada has recently expanded its service to Italy with three daily flights to Rome, while also introducing a new year-round route between Montreal and Madrid. It is estimated that with Air Canada set to operate 100 percent of the peak trans-Atlantic capacity seen in summer 2019, Air Canada will be the leading Canadian carrier operating flights to the Atlantic in summer 2024 – with the company operating 51 routes to 30 cities in Europe, Africa, the Middle East and India.
In spite of Air Canada having seen more competition across the domestic segment given a surge of low-cost competitors, Air Canada has managed to mitigate the effects of such competition by serving as the only Canadian carrier with a large and ever-growing network across the Atlantic – with the main competition on these routes originating from international carriers.
Moreover, I take the view that increased competition across the domestic market poses a limited threat to Air Canada – as the dynamics of domestic travel across Canada make the low-cost model less viable than in other markets given the country's low population relative to its size as well as Canada being a high-cost jurisdiction for airline operators.
Risks
In terms of the potential risks to Air Canada at this time, my view is that investor expectations may remain elevated heading into 2024 in anticipation of significant revenue growth across the Atlantic segment.
However, if we do not see this materialise – perhaps due to adverse macroeconomic conditions affecting demand for travel – then the stock price could react negatively. In addition, we have seen that even with the recent growth across key metrics for Air Canada, the stock price has still seen a decline. This has been partially influenced by the effects of higher fuel costs, and we could see market sentiment turn negative on airline stocks more broadly if fuel costs continue to rise.
Conclusion
To conclude, Air Canada has seen encouraging growth across revenues and earnings – which have been significantly influenced by growth that we have been seeing across the Atlantic segment.
In spite of macroeconomic challenges, I continue to take a long-term bullish view of Air Canada.
Editor's Note: This article discusses one or more securities that do not trade on a major U.S. exchange. Please be aware of the risks associated with these stocks.