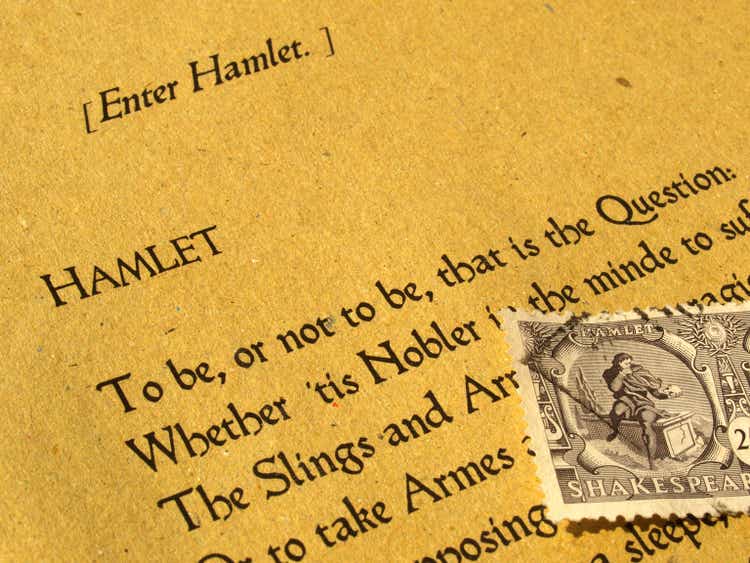 About the only thing I remember from my high school introduction to Shakespeare was the phrase "Hoisted by his own petard" used in the play Hamlet. That was because, at that time, I had no idea what "petard" meant. Over the years, the phrase has practically become a proverb and I'm sure all of you know that it refers to a bomb-maker being blown up by his own bomb, symbolizing an ironic reversal or, depending on your view, perhaps poetic justice. More simply, in effect, it means to deal a blow to oneself. And this is exactly what the board of OpenAI did when it unceremoniously fired CEO Sam Altman last Friday. Which brings to mind the only other Shakespeare I know: "To be, or not to be, that is the question." Apparently, the OpenAI board decided it was better "not to be."
Meantime, Microsoft (NASDAQ:MSFT) CEO Satya Nadella saw a huge opportunity and pounced on it: Hiring OpenAI co-founders Altman and Greg Brockman. This is a big (big!) deal and has huge implications for the entire AI landscape moving forward. Meantime, it's a coup and a very bullish catalyst for Microsoft.
What Happened Here?
This all happened so quickly my head is still spinning. Last Friday, OpenAI's board of directors announced a "leadership transition" that quite literally shocked the AI world – including OpenAI employees from top-to-bottom:
… Sam Altman will depart as CEO and leave the board of directors. Mira Murati, the company's chief technology officer, will serve as interim CEO, effective immediately.
The reason given was:
Mr. Altman's departure follows a deliberative review process by the board, which concluded that he was not consistently candid in his communications with the board, hindering its ability to exercise its responsibilities. The board no longer has confidence in his ability to continue leading OpenAI.
Now, OpenAI was deliberately structured to advance its mission, which was "to ensure that artificial general intelligence benefits all humanity."
Apparently, the OpenAI board felt Altman was out there wheeling and dealing and not staying true to that mission. Indeed, the Wall Street Journal reported that Altman was beating the bushes on two initiatives – creating a consumer hardware device with Jony Ive, Apple's (AAPL) former chief design officer, and looking for investors in the Middle East to fund a new startup aimed at creating low-cost chips to train OpenAI's AI models – that arguably conflicted with OpenAI's mission. Indeed, some may argue that putting powerful AI chips into the hands of some of the Middle East's autocratic leaders is exactly the kind of existential threat that some say AI poses to mankind.
Whatever the exact reason or reasons were, the decision to fire Altman was met with an immediate response by more than 700-plus OpenAI employees who threatened to quit unless Altman was reinstated and the entire board resigned. However, no agreement was reached between the board and Altman and, instead, Microsoft hired Altman and Brockman.
A Coup For Microsoft
Microsoft CEO Satya Nadella obviously saw a huge opportunity and he pounced on it. In some respects, Nadella's hand was forced in that Microsoft had invested some $13 billion in OpenAI for a 49% stake. That being the case, Nadella obviously had to move to protect Microsoft's investment – especially after quickly making plans to integrate ChatGPT and AI more generally across its platforms – from cloud computing to Office.
However, no doubt Nadella is very happy about this development. After all, OpenAI was not for sale but the Wall Street Journal reported in September that the company had reached a valuation estimated at $90 billion, making it one of the most valuable private companies on earth and triple its valuation before ChatGPT was announced earlier this year. Indeed, a primary catalyst for Microsoft stock being up 50%+ over the past year has likely been its large stake in OpenAI combined with its early lead in integrating and leveraging OpenAI's IP into its offerings from top to bottom: From cloud computing down to desk-top Office applications.
The bottom line: Microsoft was able to grab the brain trust of a $90 billion company by hiring Altman, Brockman, and what will surely be a plethora of other top OpenAI engineers and developers. Now, while I'm sure the new hires will be very well compensated, the point is – at least in my opinion – Microsoft effectively bought OpenAI for a song.
And to think the OpenAI board did it to themselves. That is, there was no way Microsoft could have made a play for OpenAI because the company (originally formed as a non-profit) had a valuation of ~$90 billion, only ~$1 billion of revenue, and had a "profit-capped structure" – with most of the revenue going toward investments in computing power and senior AI talent. And, as mentioned previously, the company was not for sale.
As analyst Stratechery analyst Ben Thompson said in a blog post:
This is, quite obviously, a phenomenal outcome for Microsoft … You can make the case that Microsoft just acquired OpenAI for $0 and zero risk of an antitrust lawsuit.
Thompson also pointed out that Microsoft already had a perpetual license to all of OpenAI's intellectual property, and with Altman on board is now "in the driver's seat of AI." I agree 100%.
The Competition
As for the competition, the situation may not be as dire as some think. Now that OpenAI has drastically changed in terms of talent, it will likely not be viewed in the same light by the AI community going forward – at least as far as licensing its IP. Indeed, Business Insider made a good case that the OpenAI Chaos Is Good For Google, Amazon, and Others Trying to Catch the AI leader.
Google (GOOG)(GOOGL) and Amazon (AMZN) recently invested billions of dollars in Anthropic, an AI startup that's considered to be the closest rival to OpenAI in terms of talent, IP, and product capabilities. But as I have reported before on Seeking Alpha, Google has been investing heavily in AI for years and develops its own LLMs (large language models). Indeed, it was almost exactly three years ago that Google's AI Lab and "Deep Mind" announced they had cracked the code on the "protein-folding problem" with a neural-network-based algorithm called Alpha Fold. That was considered to be a major breakthrough that evolutionary biologist Andrei Lupus told Nature is:
A game changer. This will change medicine. It will change research. It will change bio-engineering. It will change everything.
My point is, while popular consensus appears to be that competitors like Google and Amazon are "behind" in AI, I would argue that Google is actually ahead. For instance, Google has also been designing and building its own AI chips for years – something that Microsoft is just now getting around to in earnest with its recent announcement of the Maia-100 and Cobalt-100 designs, its first AI chips for cloud its Azure cloud infrastructure.
Valuation
No doubt, the acquisition of key OpenAI talent is a very bullish catalyst for Microsoft going forward and the market acted accordingly today:
MSFT: $

377.44 +$

7.59 (+2.05%)
Microsoft currently trades with a TTM P/E=36.6x and a forward P/E=33.1x. The yield is only 0.81%. Now, some may say that is a rich valuation – and I would agree. However, that valuation is rational in my opinion … and I can back that up by taking a look at the company's Q1 FY24 earnings report's highlights:
Revenue of $56.5 billion (+13% yoy)
Operating income of $26.9 billion (+25% yoy)
Net income of $22.3 billion (+27% yoy)
Diluted EPS of $2.99 (+27% yoy)
MSFT generated a whopping $20.7 billion in free cash flow during Q1, which was up 22% year-over-year. During the quarter, MSFT returned $9.1 billion to shareholders through a combination of dividends and share buybacks.
MSFT ended the quarter with cash and cash equivalents of $111.3 billion. Note that, all things being equal (by realizing they seldom are …), a 5% return on MSFT's cash hoard equates to a potential annual net income of ~$5.6 billion.
Lastly, Microsoft operates SaaS-based platforms that can be easily scaled up as the company adds new (AI …) customers. And that means margin expansion.
Summary and Conclusion
This OpenAI/Altman/MSFT development is a fast-moving story and I have a feeling that there will be more big twists-n-turns before it all settles out. Meantime, it certainly appears to be a very bullish catalyst for Microsoft going forward and I rate the company a Buy.
That said, investors would be ill-advised to give up on companies like Google and Amazon. That's because – in some respects – the chaos at OpenAI actually plays right into their hands. And don't be surprised if some of the talent at OpenAI that is expected to go to Microsoft ends up at Google and/or Amazon instead.
Regardless, in my opinion, this was a self-inflicted wound by the OpenAI as the company was truly "hoisted by its own petard." While the OpenAI board may well have been acting in the best interests of preserving the company's original mission, it seems as though some kind of compromise should have been hammered out prior to pulling the "nuclear option" and firing co-founder Sam Altman.
Then again, perhaps Altman simply wanted to pursue a monetization vision of OpenAI's technology that was simply at odds with the company he co-founded and its original mission. The impact Altman's decisions – and OpenAI's board – will have on humanity at large could be profound. But that is a play yet to be written.
I'll end with a five-year chart of the total returns of Amazon, Microsoft, and Google – the three largest cloud providers: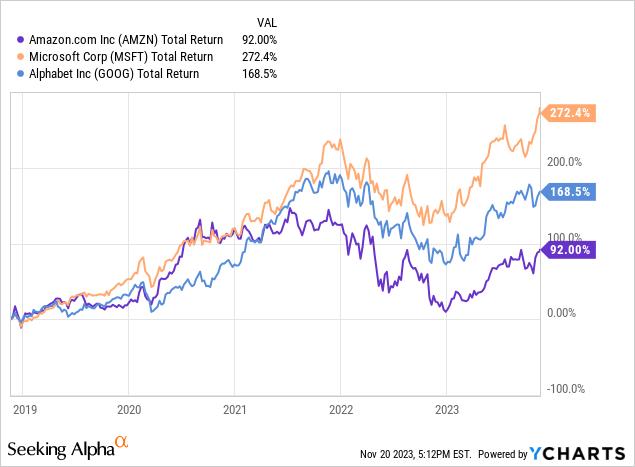 As can be seen, Microsoft has been the lead horse despite being No. 2 in the cloud computing market, some 10 percentage points behind Amazon's AWS: