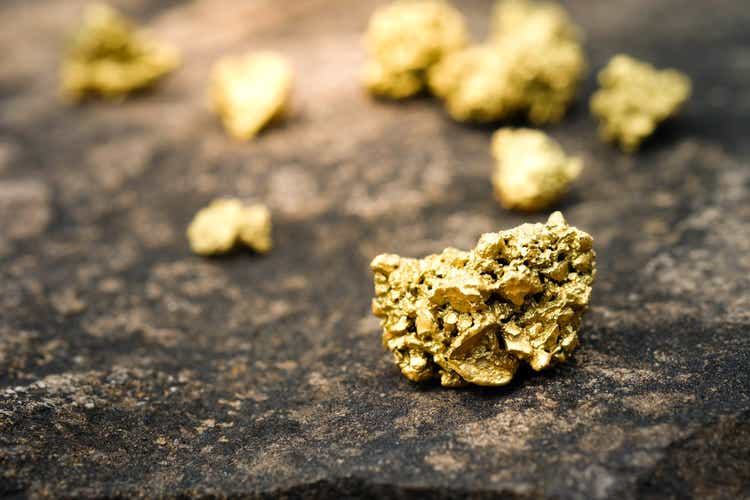 Investors in Barrick Gold Corporation (NYSE:GOLD) saw a momentary surge in its stock as it bottomed out in early October, aligning with the intensification of the Middle East conflict. However, that upward momentum has been lost since GOLD topped out at the $17.15 level in mid-October, forming a bull trap. In early September, I also updated investors about the opportunity in GOLD, which appears to be bottoming out.
Therefore, astute dip buyers who bought GOLD at its October low ($13.8 level) likely used the bull trap to take profit, anticipating that the surge might prove unsustainable. Accordingly, GOLD dropped back to the $15 level in November. The company released its third-quarter or FQ3 earnings release early this month, suggesting it still faces near-term production challenges.
As a result, management decided to downgrade its production outlook to reflect these headwinds, although they aren't expected to be structural. Accordingly, Barrick Gold highlighted the "slower ramp-up of the expansion project at Pueblo Viejo or PV in the Dominican Republic." Despite this, management expects to mitigate the near-term shortfall by ramping up in 2024 and expects PV to deliver more than 800K ounces next year.
With that in mind, management reminded investors it's confident of remaining on track to achieve its long-term outlook of securing "a 30% growth in gold equivalent production by the end of the decade." However, the company also indicated that it no longer expects to meet its original 1M ounces in production for PV in 2024. As a result, investors should expect a range between 800K and 1M ounces, with more detailed modeling provided when Barrick Gold reports its Q4 earnings scorecard in early 2024.
Therefore, investors would likely remain concerned over Barrick Gold's execution risks, notwithstanding its globally diversified production base. As a result, I expect GOLD to trade within a tight consolidation range until management improves its execution over the next year, giving investors more confidence about its ability to deliver.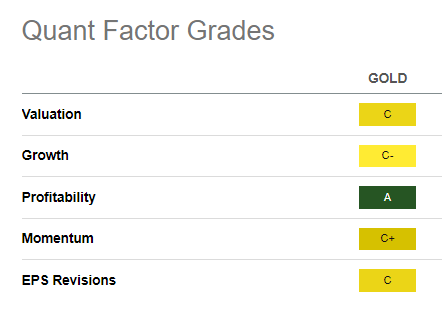 GOLD has underperformed the S&P 500 (SPX) (SPY) over the past year, posting a 1Y total return of 3.8%. Despite that, the company boasts a best-in-class "A" profitability grade, underpinning its market leadership.
Accordingly, analysts' estimates suggest Barrick Gold's free cash flow or FCF profile is expected to improve in 2024 and 2025 as it ramps production. Therefore, the challenges over the past year aren't likely to be repeated, helping to sustain its profitability. Barrick Gold's FCF margin is expected to reach 14.4% and 17.2% in FY24 and FY25, respectively.
With the Fed expected to be at the peak of its rate hikes regime, I expect macroeconomic headwinds to be less intense moving ahead, which should support more robust gold price realizations. Barrick Gold reported a realized gold price of $1,928 in Q3, up 12% from last year's $1,722 price realization. My analysis of the underlying gold futures (XAUUSD:CUR) suggests that the long-term uptrend bias in gold futures could reassert, helping to break decisively above the $2,090 level subsequently.
Therefore, I gleaned that unless gold prices take another unanticipated significant tumble from the current levels, broad market tailwinds should align with Barrick Gold's more robust production ramp-up over the next few years. As a result, it should provide investors with more confidence in the company outperforming moving ahead.
There's little question that buying GOLD now requires much patience as it remains mired in a downtrend. GOLD buyers seem to have trouble recovering the $17.15 level, even though the $15 support level seems robust for now.
As a result, the price action signal in GOLD isn't clear as the dip-buying opportunity from its early October low has been resolved with the surge in October.
Investors must be prepared for further downside toward the $15 zone, but it could provide more attractive risk/reward opportunities if it does get there. Therefore, given GOLD's weak sentiments, buyers are encouraged to allocate capital progressively to capitalize on possible opportunities to average down.
Rating: Maintain Buy.
Important note: Investors are reminded to do their due diligence and not rely on the information provided as financial advice. Please always apply independent thinking and note that the rating is not intended to time a specific entry/exit at the point of writing unless otherwise specified.
We Want To Hear From You
Have constructive commentary to improve our thesis? Spotted a critical gap in our view? Saw something important that we didn't? Agree or disagree? Comment below with the aim of helping everyone in the community to learn better!