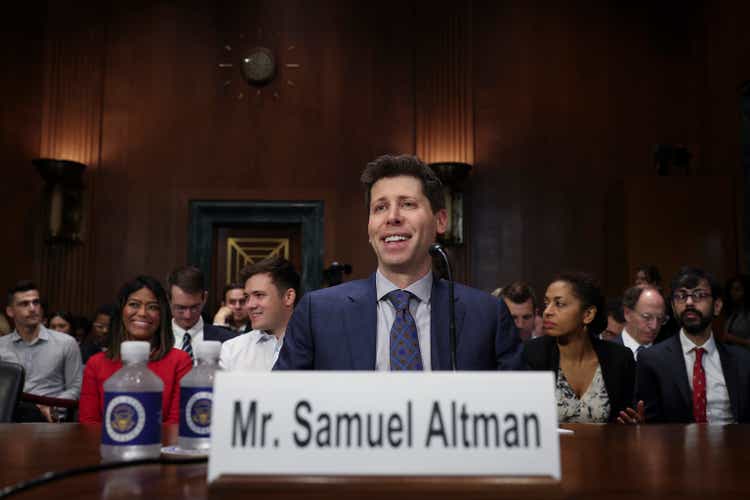 Article Thesis
Microsoft (NASDAQ:MSFT) is a very high-quality company that continues to generate strong results. Over the last year, many investors have liked the stock due to its stake in OpenAI, which gives Microsoft a strong position in the AI world. OpenAI has made the news over the last couple of days due to the firing of its CEO Sam Altman, who has now joined Microsoft itself. Getting this visionary on board at MSFT itself should be an advantage for Microsoft in the long run, and Sam Altman should benefit from being able to access Microsoft's resources more directly.
What Happened?
Sam Altman, who is one of the co-founders of OpenAI, was the company's CEO between 2019 and 2023. Last Friday, he lost this job, as the board stated that they had "lost confidence" in him. The reasoning for that included that Sam Altman was, according to OpenAI's board members, not communicating clearly with the board.
Many of OpenAI's employees, including high-level key personnel such as president and co-founder Greg Brockman, were very unhappy with the board's decision to oust Sam Altman. Some employees decided to leave OpenAI, which includes Brockman. And that makes sense to me: While I don't know about how well Sam Altman communicated with the members of the board of OpenAI, he did lead the company very well, I believe – after all, OpenAI has had a lot of success with ChatGPT under his leadership, and the value of the company has skyrocketed as the AI company has gotten more and more attention.
Since then, there have been speculation about whether Sam Altman would rejoin OpenAI, and there was some talk about the board of OpenAI possibly stepping back. But things have taken a different direction, and Sam Altman has now joined Microsoft itself, becoming one of the company's AI effort leaders. Co-founder and former OpenAI president Greg Brockman joined him at Microsoft.
A Good Move By Microsoft
From my perspective and from the perspective of many others, this was a smart move by Microsoft that strengthened Microsoft itself. Wedbush analyst Dan Ives even compared the hiring of Sam Altman at Microsoft itself as a "world-class poker move."
When Sam Altman was leading OpenAI, Microsoft had a stake in his vision and ability to execute, but Microsoft wasn't the sole beneficiary of said vision and execution. Instead, Microsoft owns around 50% of OpenAI and would thus have received around half of the value that Sam Altman would have generated at OpenAI in the future in a scenario where Sam Altman would have remained OpenAI's CEO. But with Sam Altman now working for Microsoft directly, all of the shareholder value that he and other employees that moved to Microsoft create will belong to Microsoft and Microsoft's shareholders. Of course, there's no guarantee that Sam Altman will generate a lot of value at Microsoft, but his track record speaks for itself, I believe, and it's a good thing for Microsoft to be able to reap 100% of the potential rewards instead of only half.
Sam Altman's decision to move to Microsoft also implies several other things: Sam Altman would likely have been able to get top jobs at many other tech companies as well, such as Alphabet (GOOG)(GOOGL), Meta Platforms (META), Amazon (AMZN), and so on. And yet, he decided to stick with Microsoft, a company he knows well due to having contact with Microsoft in the past, as MSFT is the top shareholder in OpenAI. It looks like he concluded that Microsoft is a good company to work for, and presumably a better one than the other companies he could have gotten into. This could also indicate that Microsoft's position in the AI space is seen as very favorable by Sam Altman – he likely would have not decided to go to Microsoft if he thought that Microsoft had fallen behind other AI players such as Alphabet.
The fact that Sam Altman is now a "Microsoft asset" is thus very positive for Microsoft and its shareholders directly, as he can generate value for MSFT directly and since there is likely less friction when it comes to accessing funding and so on due to Microsoft's very deep pockets. Sam Altman's decision to go to Microsoft instead of any other tech company also implies good working conditions and a positive position in the AI race for Microsoft – I believe that Sam Altman would, if that were not the case, decided against working for Microsoft directly.
Microsoft: Executing Very Well
While Microsoft's AI business is exciting and likely a major growth driver in the coming years and possibly decades, most of the company's revenues are generated in other areas for now. But luckily, Microsoft is executing very well in non-AI areas as well.
During the most recent quarter, Microsoft generated revenue growth of 13%, which is strong in absolute terms and compares favorably to the growth rate of the other mega-cap tech stocks – even highly expensive Tesla (TSLA) grew its revenue by just 9% during the most recent quarter. Microsoft's revenue growth is being driven by several contributing factors, including ongoing growth for Microsoft's Azure cloud computing business, which grew by a highly impressive 29% over the last year, but also by more established business units such as Microsoft's business and productivity products like Office. Profit growth was very strong during the most recent quarter, with comprehensive income soaring by 46% to almost $22 billion for the quarter. Cost-saving measures in combination with Microsoft's strong business growth have allowed for highly compelling profit improvements.
Going forward, Microsoft's outlook remains very positive, I believe. The closing of the Activision-Blizzard acquisition, which occurred in October, will have a positive impact on sales and profits in the current quarter and beyond, for example, but investors also can expect ongoing growth from Microsoft's existing business lines such as Office, Azure, and so on. In the coming years, Microsoft's sales should increasingly benefit from its AI offerings, although those will likely not yet have a large positive impact during the remainder of 2023 and in 2024. For investors with a longer perspective, the AI business and Microsoft's strong position in this space are highly exciting, however.
Is Microsoft A Good Investment?
Microsoft undoubtedly combines many positives: The company has excellent margins and returns on capital, an AAA-worthy balance sheet, strong business growth, while Microsoft is also very well positioned in current and future growth industries such as cloud computing and Artificial Intelligence.
Microsoft has strong management and generates massive cash flows, which allows the company to be active in M&A and to return many billions of dollars to its shareholders at the same time.
We also should take a look at Microsoft's valuation, however. While Microsoft deserves a premium valuation compared to the broad market due to its many attractive traits, one can argue that the stock is far from a bargain today. Looking at current earnings per share estimates for this year, Microsoft is trading at 34x net profits, which pencils out to an earnings yield of just below 3% – at a time when zero-risk treasuries offer yields of well above 4%, which makes for a rather high valuation. Microsoft's 10-year median earnings multiple is 29, meaning shares are currently trading at a valuation that is at the high end of the historic range. When we further consider that interest rates were much lower over the last decade, on average, compared to where they are today, it looks like MSFT isn't a great value today. That doesn't mean that MSFT is a bad investment, but waiting for a pullback before entering or expanding a position might be a good idea. I'm happy to hold my shares of Microsoft for now.