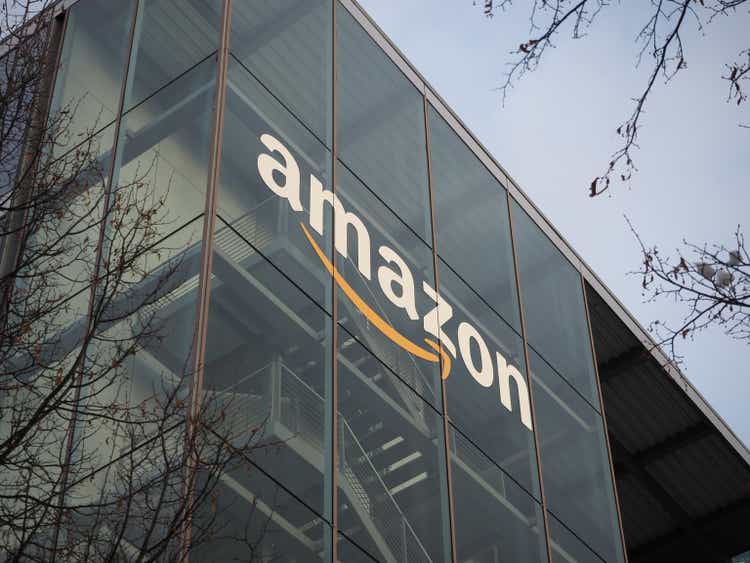 E-commerce giant Amazon, Inc. (NASDAQ:AMZN) has announced another innovative solution with a car sales partnership involving Hyundai Motor Group. I'll look a little deeper at the consequences for Amazon and the auto sales sector.
Amazon announces car retail and
digital partnership with Hyundai
Amazon announced a deal on Friday at the Los Angeles Auto Show that will see them selling Hyundai cars online from 2024. The process will involve customers using the company's traditional online experience to select and purchase a vehicle that can be picked up, or delivered from a local dealership.
Amazon stressed in the press release that Hyundai "will be the first brand available for customers to purchase." The deal will also see the company becoming Hyundai's digital transformation partner, which will see them using the AWS cloud, and launching an in-car version of Alexa in 2025.
Customers will be able to search Amazon for vehicles in their area based on a range of preferences, including model, color, and features. With Hyundai's Alexa, users can "play music, podcasts, or audiobooks, set reminders, update to-do lists, and check calendars."
For Amazon, this is another large corporation bringing its business operations under the cloud, while for Hyundai it's a chance to utilize the company's sales reach, which will likely see other carmakers looking to catch up.
"Partnering with one of the world's most customer-centric organizations unlocks incredible opportunities as we continue to expand our portfolio… grow our sales network," said the CEO of Hyundai Motor Company Jaehoon Chang.
The auto retail sector takes a hit
Like Amazon's other steps into new sectors, like its purchase of Whole Foods in 2017, there was an initial ripple effect.
Car retailers CarMax (KMX) and Carvana (CVNA) saw their shares down almost 6% on Friday before a recovery. Bank of America analysts said that the industry may benefit from Amazon's arrival.
"The scope of the partnership is broader than just selling vehicles through Amazon. It is also important to recognize that auto sales represent the largest retail segment in the U.S. and globally. Amazon's computing capabilities may enable Hyundai to deploy a wide range of data analytics and generative AI tools to optimize manufacturing and supply chain management, along with the retail process and lifetime consumer relationship."
However, the company currently has a buy rating on some auto retailers. Led by John Murphy, BofA said, according to a Seeking Alpha report, that "current franchise laws ensure that dealers must be the intermediary in auto transactions and most warranty repairs." They added that Amazon could help to boost a well-run dealership group.
Another string to Amazon's bow in cloud and commerce
As mentioned earlier, the partnership with Amazon will add to the dominance of its AWS cloud and also bring in the potential for a lucrative new revenue stream. Analysts may play down the current effects on the auto retail industry, but it could open up a gap in the market for Amazon to run its own vehicle outlets, or eat into pricing when the process becomes more retail-orientated. If more and more customers buy online then they can do to car dealerships what they did to bookstores and then bricks and mortar stores in every other product.
Amazon's current valuation has a price/earnings ratio of 75x, which is actually 11% lower than the 5-year average, according to Seeking Alpha data.
For a company that is expected to mature and slow down, Amazon still performs well in gross profit per quarter, with single or double-digit gains outside of the cyclical post-holiday slump. Net Income is a more volatile number and will relate to different items but the company is still delivering revenue gains year-over-year.
The company has also made huge strides this year in creating a $21.4 billion trailing twelve-month free cash flow.
The next target for the shares is a move to the all-time highs which are around 25% higher. Investors should continue to watch AWS cloud strength but the deals such as the one signed with Hyundai continue to show that large corporations are embracing digital business models and trusting the likes of Amazon with their data. New AWS deals were recently signed with BMW, Occidental, and PwC during the previous quarter.
In that earnings report, Amazon posted a strong showing with Net Sales up 13% to $143.1 billion in the third quarter, compared to $127.1 billion in the same period a year ago. The North American and European segments were up double digits and AWS segment sales were up 12% year-over-year to $23.1 billion.
More importantly, the company is advancing in other areas that can improve on previous earnings results, such as its delivery speeds.
"The benefits of moving from a single national fulfilment network in the U.S. to eight distinct regions are exceeding our optimistic expectations, and perhaps most importantly, putting us on pace to deliver the fastest delivery speeds for Prime customers in our 29-year history," CEO Andy Jassy said.
Alongside faster fulfillment, the company is developing its own custom artificial intelligence chips and a coding assistant. Notably, the earnings statement said that customers, including Adidas, Booking.com, GoDaddy, Merck, and United Airlines… are starting to run generative AI workloads on AWS.
Another recent announcement was the news that Prime members will be able to access U.S. healthcare provider One Medical's products for a fee. The healthcare sector is a $4 trillion industry and the e-commerce company is still working out where it fits, but it is another sign that it is seeking to leverage its growing Prime customer base.
Headwinds to the share price could come from a worsening macroeconomic environment and foreign currency effects. But, I believe that any slowdown in advertising could be offset by corporations embracing AI tools in AWS. With potential efficiencies available, that spending will likely take priority over big ad spending for the next few years.
With all of this together I think Amazon is still attractive at this level and more attractive on any correction. The company is well valued under other metrics such as a price/sales ratio that is -21.64% lower than the 5-year average. The price-to-book ratio is currently -43% compared to the same period.