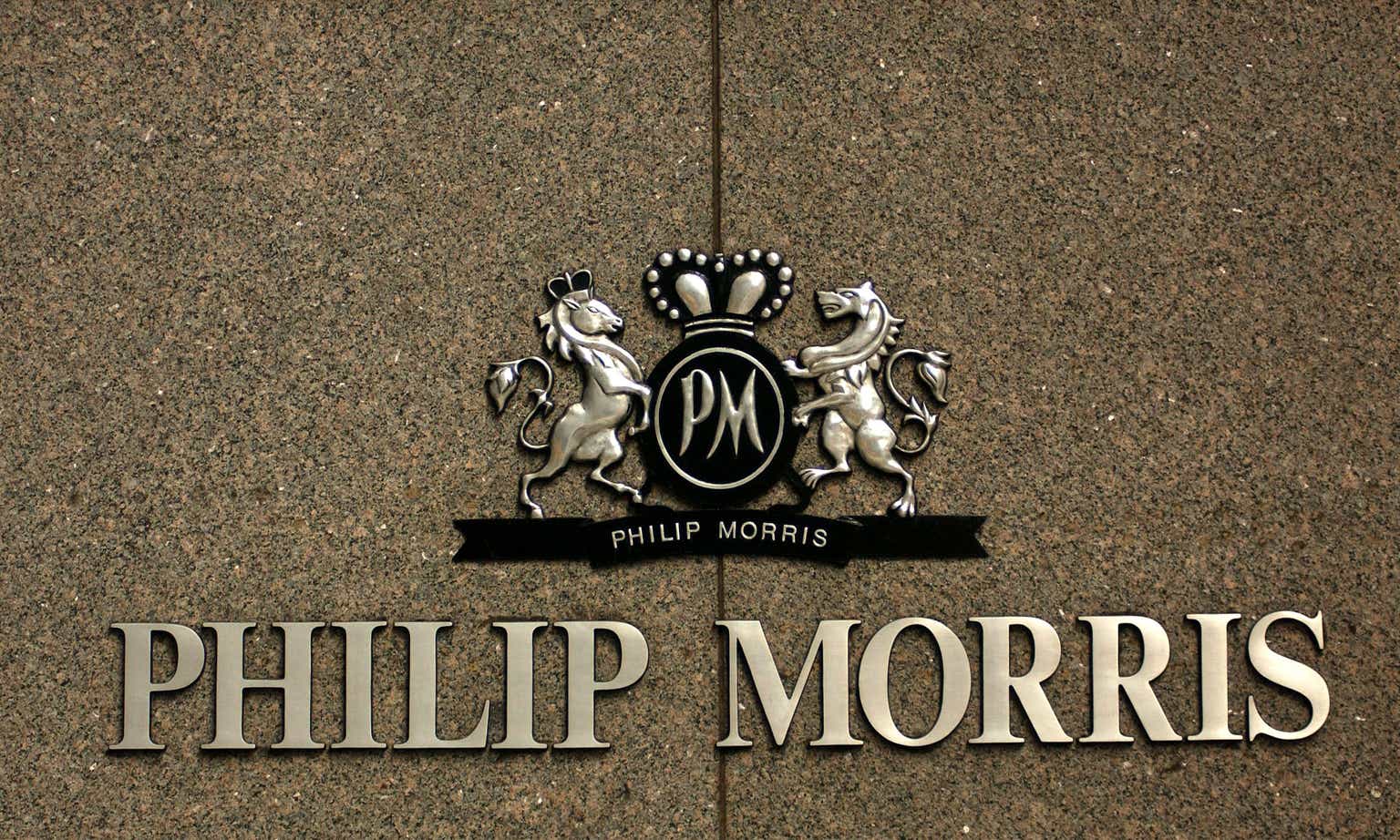 Philip Morris International Inc. (NYSE:PM) stock has remained close to the $90 support zone I updated in my previous article in September. However, a momentary scare in late October saw technical selling after the week of the company's third-quarter or FQ3 earnings release.
However, buyers returned with conviction, stemming a further decline below that zone, helping PM avoid falling into a potentially debilitating long-term bearish bias.
With that in mind, I believe it's appropriate to help Philip Morris investors assess whether the current levels remain a buying opportunity, even though PM has significantly underperformed the S&P 500 (SPX) (SPY) over the past year.
Despite that, I gleaned that PM's 1Y total return of nearly 2% isn't all that bad, suggesting its performance is still pretty much in line with arch-rival Altria Group (MO). PM also boasts an attractive "B" valuation grade (assigned by Seeking Alpha Quant), giving confidence to value investors looking to add exposure.
Notwithstanding PM's appeal, the market remains tentative over a sharp valuation re-rating for PM. Why? The legacy tobacco market remains in a secular decline, even as Philip Morris is expected to continue transforming its revenue base into reduced-risk products.
Accordingly, Philip Morris posted a remarkable performance from IOQS and ZYN. ZYN delivered "exceptional growth with US volumes up by 66% in Q3." In addition, the company posted a revenue contribution of 36% from smoke-free products in Q3. Moreover, its combustibles category posted a 6% growth in organic net revenues, demonstrating its robust pricing levers to mitigate anticipated volume declines in the future.
In addition, Philip Morris is also well-positioned on its IOQS commercialization roadmap in the US as the company is "set to gain full rights to commercialize all IQOS products in the United States as of April 30, 2024." Given the highly lucrative success of IOQS globally, Philip Morris is expected to invest and gain leadership in the US, helping to drive its growth further.
As a result of its robust Q3 performance, the company raised its adjusted EPS guidance range for FY23, although it was still below the consensus estimates. I believe the caution is justified, as we need to consider the impact of Forex volatility. Despite that, Philip Morris is expected to remain a market leader in the smokeless transition, given its global portfolio in over 180 markets.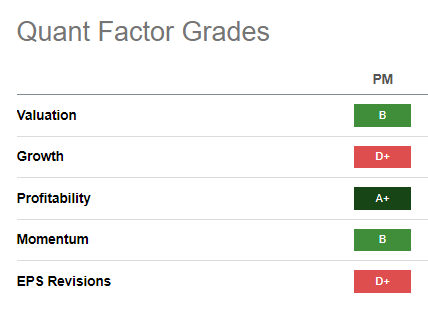 Despite that, some concerns could be attributed to its relatively weak earnings revision grade (assigned "D+" by Seeking Alpha Quant), which could hamper confidence about its ability to sustain outperformance in earnings. As discussed earlier, the company's upgraded adjusted EPS range of $$6.05 to $6.08 is still below analysts' estimates of $6.11.
Notwithstanding the caution, PM's "B" momentum grade corroborates improved buying sentiments, supporting my thesis that value and income investors are willing to defend the $90 zone.
PM's price chart indicates robust support was observed at the $90 level at its October selloff. Therefore, I assessed that sellers didn't have sufficient momentum to compel a further selloff toward PM's September 2022 lows ($80 level).
Despite that, PM remains primarily in a consolidation zone, suggesting investors who decide to add now must remain patient. However, the risk/reward is considered attractive, although caution must be heeded closer to the $100 level.
Rating: Maintain Buy.
Important note: Investors are reminded to do their due diligence and not rely on the information provided as financial advice. Please always apply independent thinking and note that the rating is not intended to time a specific entry/exit at the point of writing unless otherwise specified.
We Want To Hear From You
Have constructive commentary to improve our thesis? Spotted a critical gap in our view? Saw something important that we didn't? Agree or disagree? Comment below with the aim of helping everyone in the community to learn better!