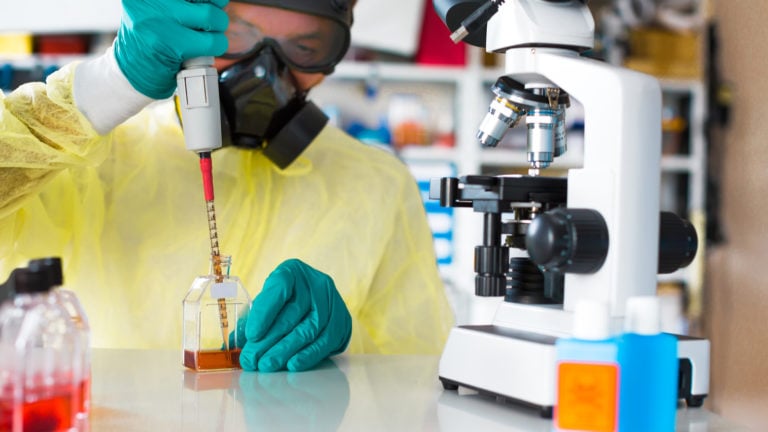 Source: luchschenF / Shutterstock.com
When it comes to investing in pharmaceutical stocks, an intriguing area for future growth is gene editing. This is an exciting field that may provide a solution to some of our most vexing diseases, such as cancer and diabetes.  
And in 2023, many companies are closer than ever to a solution. So, although I know that's not how it works, it was interesting that when ChatGPT gave me a list of pharmaceutical stocks, it included several which have partnerships with gene editing companies.  
It's important to note that pure-play gene editing companies, such as CRISPR Technologies (NASDAQ:CRSP), carry significant risk. But being cautious doesn't have to mean staying on the sidelines. It can simply be a matter of knowing what you own. 
The companies that are in partnerships with these pure-play gene editing companies make it more likely that the promise of gene editing will result in commercially approved and available products. They're also examples of the high potential pharma stocks you can consider for long-term growth.  
Pfizer (PFE)
For better or worse, Pfizer (NYSE:PFE) is synonymous with its Covid-19 vaccine. Many investors plowed into PFE stock in 2020. But many of those investors likely sold their positions as sales of the company's Covid-19 vaccine Comirnaty and its antiviral Paxlovid are normalizing. 
That has sent the stock down nearly 38% from its all-time high of $59.48 on December 17, 2021. The question that investors should consider is what is the outlook for PFE stock when considering investing in pharma stocks? 
The answer may be 19. That's the number of drug launches and label expansions the company has planned in the next year. The company also projects these drugs to generate $20 billion in sales by 2030. That would be about 20% of the total revenue the company generated in 2022.  
Not all of these drugs will hit, of course. But Pfizer also recently acquired Seagen (NASDAQ:SGEN) for $43 billion. This will allow the company to expand its portfolio of oncology drugs. And it provides more opportunity for the company to deliver shareholder value.  
The company is also expanding into other areas such as gene editing. In 2022, Pfizer announced a $1.3 billion partnership with Beam Therapeutics (NASDAQ:BEAM). The companies will use Beam's "base editing" technology to make precise corrections to typographical errors in gene sequences.  
And the best news of all is that Pfizer stock is objectively undervalued. It currently trades at just 7x earnings and has a dividend with a 4.5% yield.  
Vertex Pharmaceuticals (VRTX)
Vertex Pharmaceuticals (NASDAQ:VRTX) is another company that is using gene editing to go beyond its core capabilities. The company is currently best known for being the leader in cystic fibrosis treatments.  
The company recently received an expanded use authorization (EUA) that will allow its flagship drug, Trikafta, to be used on children ages 2 through 5 that meet certain conditions.  
That alone will ensure that Vertex will continue to deliver solid revenue and earnings. But the company may deliver another $1 billion in revenue by 2028 due to Vertex's partnership with CRISPR Therapeutics. Under terms of the licensing deal, Vertex is helping advance CRISPR's Exa-Cel platform which is in clinical trials for transfusion-dependent beta thalassemia and severe sickle cell disease.  
And that deal is in addition to Vertex's own pipeline, which includes potential new treatments for diabetes and pain management.  
Regeneron (REGN)
A third company to consider for investing in pharma stocks is Regeneron (NASDAQ:REGN). The company became a household name in 2020 after the U.S. government awarded Regeneron with $450 million to manufacture a therapeutic to lessen the severity of Covid-19 symptoms. It didn't hurt that it's most famous test case was the occupant of 1600 Pennsylvania Avenue at that time: Donald Trump. 
Unlike other companies that were winners during the pandemic, REGN stock only began to retreat in April 2023. And even that is an inauspicious drop of about 3.9%. However, there may still be an opportunity for investors to profit from taking a position in Regeneron. 
One reason for that comes from the company's long-standing gene editing partnership with Intellia Therapeutics (NASDAQ:NTLA). While this partnership may take a long time to play out, it's another example of a company that is developing multiple revenue streams which makes it one of the high potential pharma stocks for this month and beyond.  
On the date of publication, Chris Markoch had a long position in PFE. The opinions expressed in this article are those of the writer, subject to the InvestorPlace.com Publishing Guidelines.