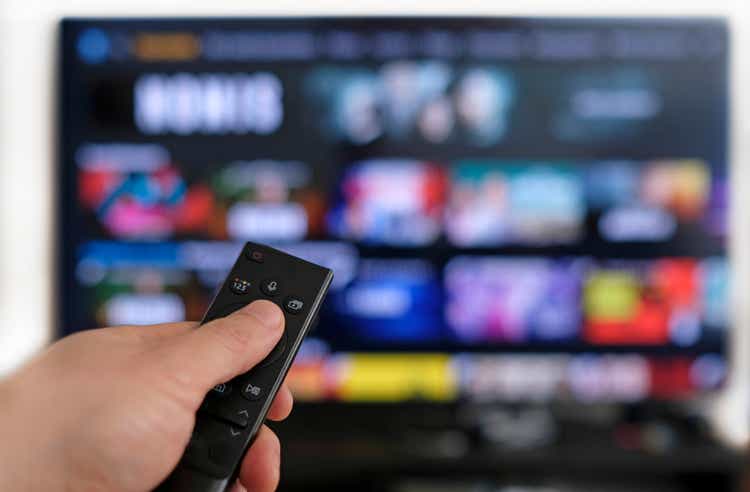 The Trade Desk (NASDAQ:TTD) continues to win on its initiatives, and the tailwinds in connected TV (CTV) and digital ad spend are in favor of long-term market outperformance. Risks remain with UID adoption, competitive pressures from Google (GOOG) (GOOGL), and the macroeconomic backdrop. However, TTD has powered through and maintains a pristine balance sheet, strong growth, and increasing market share with an additional catalyst coming in the form of a $700M stock repurchase plan.
TTD has continued to take market share as CTV powers ahead. The graph above shows preferred demand-side platforms (DSP's) among publishers in a review conducted by Datonics. In general, publishers use several DSP's, but TTD has established itself as one of the leading candidates to be on the list, nearly catching up to Google. Last year, revenues grew three times faster than the overall digital advertising market. Additionally, Meta (META) and Google combined for less than 50% of advertising revenues for the first time in a long time. Despite revenue declines in other companies in the advertising space, TTD continued its outperformance and remains in a strong competitive position.
However, Google remains a key competitive threat. The company dominates the digital advertising market, and has recently come under scrutiny in a DOJ investigation. The suit doesn't pull any punches, leveling accusations the company has meaningfully engaged in anticompetitive behaviors in the advertising space for the past 15 years. Some specific verbiage from the suit:
"The Department's landmark action against Google underscores our commitment to fighting the abuse of market power," said Associate Attorney General Vanita Gupta. "We allege that Google has captured publishers' revenue for its own profits and punished publishers who sought out alternatives. Those actions have weakened the free and open internet and increased advertising costs for businesses and for the United States government, including for our military."

"Today's lawsuit seeks to hold Google to account for its longstanding monopolies in digital advertising technologies that content creators use to sell ads and advertisers use to buy ads on the open internet," said Assistant Attorney General Jonathan Kanter of the Justice Department's Antitrust Division. "Our complaint sets forth detailed allegations explaining how Google engaged in 15 years of sustained conduct that had – and continues to have – the effect of driving out rivals, diminishing competition, inflating advertising costs, reducing revenues for news publishers and content creators, snuffing out innovation, and harming the exchange of information and ideas in the public sphere."
TTD has been relatively insulated from these issues in the past. The company operates only on the buy-side, and even the UID 2.0 they spearheaded does not provide revenues to the company but rather acts as a replacement for third-party cookies in the shifting privacy landscape. The company's leadership in the CTV space through partnerships with the UID initiative with companies like Disney (DIS) and now Paramount Global (PARA) has set them up for long-term success as growth in ad-supported tiers becomes the likely long-term solution to profitability issues among the streaming platforms.
Jeff Green, the founder and CEO, recently wrote an article in The Current discussing his thoughts on the DOJ suit, where he also pulled no punches. He's an effective writer and speaker, so I wanted to include an excerpt here to paint the picture:
Because we don't own any media content or sites (destinations like YouTube), or a search engine (like Google.com or the much smaller, not-so-dominant Bing), we can objectively buy the ads that have the most value to any given brand. We always set up our system and incentives to do the best thing for the brand. As the DOJ lawsuit points out, Google, on the other hand, makes money on all sides of the advertising transaction. In many cases, Google is even buying from Google on behalf of brands. …

The Trade Desk is in the unique position of winning against a small division of Google, because size and lack of objectivity work against Google when dealing with sophisticated buyers who have lots of choices. And on the open internet, brands have choices, nowhere more so than in the exploding world of connected TV.

In other parts of its advertising business, Google has left consumers and ad buyers with very few choices. With so many touchpoints to ad buyers and consumers, Google can route ad spend to themselves and never be challenged on the self-serving, anemic walled garden marketplace that eliminates choices.

As a result, today, for a substantial percentage of online advertising impressions, Google controls the decisioning, the routing, the audit trail, the bid, and the ask – seemingly playing the role as judge, jury, bailiff, prosecutor, defense attorney, and warden in many of the ad transactions they try to assert are finding justice.
The prevailing opinion has shifted against big Tech, and with the DOJ's lawsuit specifically targeting Google's ad market dominance, there could be meaningful traction in the medium-term to open the market up. There's no company better positioned to benefit from that than the "open market versus walled gardens" pioneer TTD.
Although this isn't a key part of an investment thesis, because I'll never try to guess what comes out of a DOJ investigation, it does show me it would be difficult for Google to justify any major anti-competitive moves against TTD in the space with the eye of Sauron fixated directly on them. A final word from Jeff Green on the earnings call:
To be clear, this is not us versus Google. It's the value and opportunity of the open Internet versus the limitations of walled gardens. We have been winning for years in an unfair market with some systemic obstructions working against us. Imagine what we can do as the market becomes more fair which we predict it will one way or another.
Outside of the fun Google is dealing with, CTV remains a massive tailwind for TTD. The partnership with Disney on UID 2.0 and now Paramount has set TTD up to maintain its competitive edge in the space. As shown above, ad supported CTV is likely the way of the future as nearly every streaming company is looking for ways to stop the bleeding.
Of note, the macroeconomic backdrop remains murky at best, and companies have cut back spending and in some corners of the market initiated substantial layoffs. My assessment is TTD's revenue growth and increased spend on the platform to $7.8B shows advertisers see real value in the platform and are prioritizing TTD as part of their marketing strategy.
95% of TTD's revenues are generated via master service agreements with clients, which historically were for one year. Over time, these have lengthened, on average, which allows for more predictability in revenues and longer times to build relationships and show value.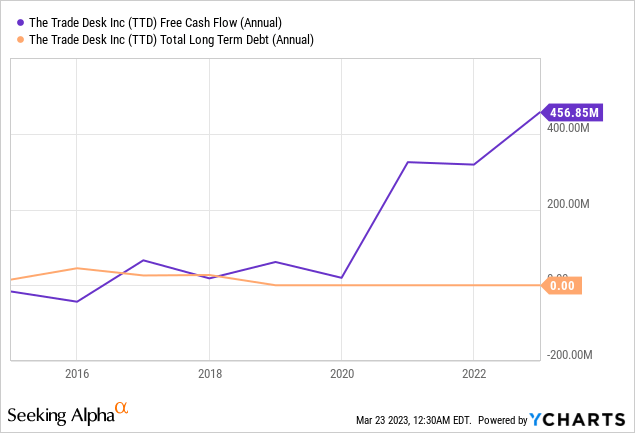 As TTD has grown, the company has maintained GAAP profitability every year since 2013. With $1.4B of cash on the balance sheet, no debt, and ttm FCF of $450M, the board decided to initiate a stock buyback plan this past quarter of $700M. Capex this next year is projected at $80M for data center and infrastructure upgrades, and management is tracking to cut the rate of hiring in half. Operating expenses grew slower than revenues this past year, at 22%, and in all the company has maintained shrewd expense management over time. I wouldn't hate it if the company initiated a dividend here, since buybacks can at times be dilutive. The stock isn't cheap, but it is around 25% off the 52-week high.
Regardless, the deployment of cash to buybacks does show commitment to shareholders and we will see how well the company opportunistically deploys it to minimize value destruction.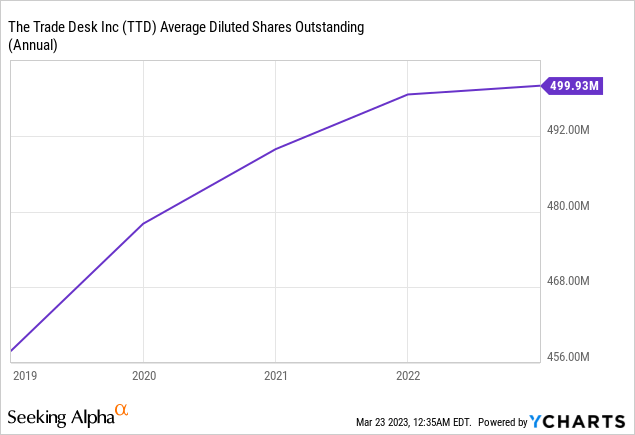 Despite some stock-based compensation, the share count hasn't meaningfully diluted, and the rate of increase has declined over time (likely as the share price has climbed). Stock buybacks signal to me the company is entering the next stage of its growth, where they've achieved scale and no longer need to deploy every dollar into achieving more growth.
In all, TTD is an incredible business. I try to look at these companies as objectively as possible, and TTD hits all the marks for me. It's in an attractive industry with a passionate founder/CEO. Expenses are well-managed, the product is differentiated and is taking market share over time. Growth remains strong despite a poor economic backdrop, and GAAP profitability has been maintained for long enough it's not a fluke. Google is in a rough patch right now with the DOJ investigation, and TTD is in position to continue taking share. The only thing really missing is switching costs. As TTD continues to take share, I assess the network effect is sufficient to maintain preferential ad spend on the platform, but publishers will likely always maintain multiple DSP partners. In all, valuation is likely the main concern I'd have here. The company is trading at around 55X earnings. Maintaining that valuation, analyst estimates would put total returns around 20% annualized from here. Compression to 25X earnings would give you 10% projections out to 2028. Considering the way TTD is maintaining its growth today, its unlikely valuation will compress closer to market multiples barring a market rout, which is always a risk. TTD is a buy and a long-term hold for me as a growth stock in my portfolio.