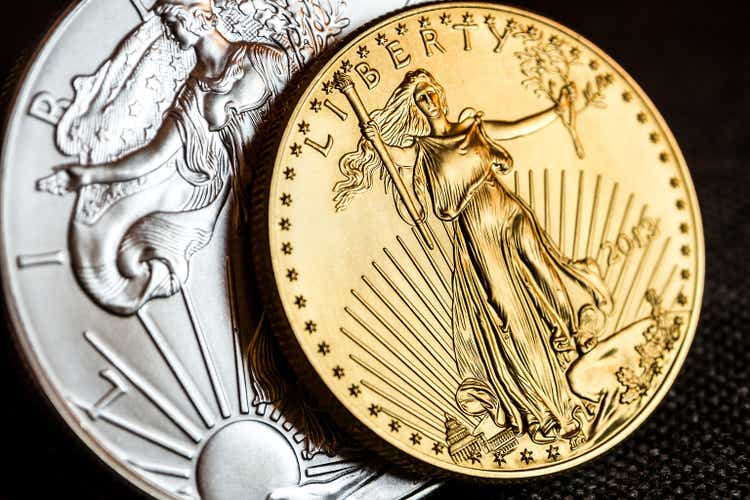 While platinum has been the laggard of the four metals, the price on March 23, 2023, at $992.90, was 130.8% higher. Palladium at $1,432.80 was 219% higher, silver at $23.25 moved 326.4% to the upside, and gold at $1995.60, the undisputed precious metals heavy-weight champ, had moved 589% higher. Precious metals have returned impressive gains over the past decades but have been volatile. Buying on price weakness and selling on rallies has been the optimal approach, with gold and palladium reaching new all-time highs in 2022.
The current economic and geopolitical landscapes support a continuation of price appreciation in the precious metals arena. The Aberdeen Physical Precious Metals Basket ETF (NYSEARCA:GLTR) holds the four physical metals, with over half its assets invested in gold.
Gold leads the charge higher
Gold has made higher lows and higher highs since it traded at $252.50 in 1999.
The chart highlights gold's bullish trend that remains firmly intact after nearly two and one-half decades. Gold is flirting with the $2,000 level for the first time in 2023 over the recent trading sessions. The upside target is technical resistance at the 2022 $2,072 record continuous contract high.
Silver moves above $23
The more speculative and volatile silver market experienced explosive and implosive price action.
The chart illustrates that nearby COMEX silver futures have not traded below $10 since late 2008 and under $17 per ounce since May 2020. After reaching a $17.32 bottom in September 2022, silver has made higher lows and higher highs, with the price above $23 on March 23, 2023.
Silver tends to move more than gold on a percentage basis, leading to significant rallies and declines that attract speculative interest.
Platinum group metals have corrected
While gold and silver have many industrial applications, they're financial metals with long histories as hard currency and stores of value. Central banks validate gold's role in the world financial system as they own gold reserves classified as foreign currency reserves. Over the past years, governments, monetary authorities, and central banks have been net gold buyers. While they do not hold silver as a reserve asset, individuals continue to own silver as a financial asset.
The platinum group metals are precious because of their rare nature, but they have many industrial applications. Platinum's and palladium's density and heat resistance make them critical in automobile, oil, petrochemical refining, and fiberglass catalysts. The platinum group metals are crucial in many other electrical, technological, and medical products.
Gold and silver production is widespread, while platinum and palladium come primarily from South Africa and Russia. Gold and silver annual outputs are far higher than the platinum group metals on a per-ounce basis. In 2022 mine production was:
Global gold and silver stockpiles are far higher than platinum and palladium stocks, making the platinum group metals more precious when it comes to annual supplies and above-ground inventories.
The NYMEX platinum futures chart shows the bearish trend of lower highs and lower lows since the 2008 all-time high. However, platinum prices remain significantly above the level at the turn of the century.
The NYMEX palladium futures chart highlights the rise $3,380.50 record high in March 2022 on supply concerns when Russia invaded Ukraine. The price turned lower and was less than half the March 2022 high on March 23, 2023. Palladium futures have not traded below the $1,000 per ounce level since September 2018.
South African platinum and palladium output are from primary mines, while Russian production is a byproduct of nickel mining in Siberia's Norilsk region. The ongoing war in Ukraine, sanctions on Russia, and Russian export bans to punish "unfriendly" countries supporting Ukraine continue to increase the potential for supply shortages. While platinum and palladium have recently underperformed gold and silver, the charts and less liquidity highlight the potential for sudden violent rallies from the current price levels.
The four factors supporting precious metals
The following four factors support the precious metals in late March 2023:
Precious metals remain a store of value during inflationary periods. Inflation at the highest level since the 1980s supports higher precious metals prices.
Gold is the leader of the precious pack and has been moving towards a challenge of the March 2022 record high at $2,072.
The bifurcation of the world's nuclear powers challenges the U.S. dollar's role as the global reserve currency. China and Russia have increased gold holdings, buying on the international market and vacuuming up domestic production.
Rising interest rates have weighed on stocks, bonds, real estate, and other asset classes, making precious metals an alternative for investors seeking stability and growth. In the current environment, gold and silver trends are higher, and the trend is always your best friend in markets. Moreover, platinum group metals and silver could attract increasing investment demand given the current prices that are well below record highs.
The evidence and trends support higher precious metals prices over the coming months and years.
GLTR holds four precious metals
The most direct investment route for precious metals is the physical market for bars and coins. However, physical gold, silver, platinum, and palladium involve significant premiums. The futures markets offer a physical delivery mechanism, but futures are leveraged products that require margin.
ETF products provide an investment alternative for the four metals. The most liquid ETFs are GLD, SLV, PPLT, and PALL. Meanwhile, the Aberdeen Physical Precious Metals Basket ETF provides diversified exposure to the four metals.
GLTR's fund summary states:
GLTR's top holdings include:
The chart and fund summary show GLTR holds over 60% of its assets in physical gold bullion, the most liquid precious metal. Silver, platinum, and palladium holdings are also in physical bullion.
At $90.98 per share on March 23, GLTR had just over $1 billion in assets under management. GLTR trades an average of 46,344 shares daily and charges a 0.60% management fee.
The chart shows in 2022, GLTR moved from $89.45 to $89.23 per share, or only a 0.25% decline in an environment where the S&P 500 fell 19.44%, and bonds and real estate suffered significant declines. Precious metals held their value last year, and at $90.98 per share, GLTR was 1.96% higher since the end of 2022 on March 23. GLTR has been in an overall bullish trend since late 2015.
GLTR is a diversified precious metals ETF that holds the metals that could provide a safe harbor from market volatility. The recent bank bankruptcies, a debt ceiling crisis in the U.S., the ongoing war on Western Europe's doorstep, and geopolitical bifurcation are compelling reasons for holding precious metals as a part of any portfolio.