UK consumer prices rose by 1.1% in February. Instead of the expected slowdown in from 10.1% to 9.9%, we saw an acceleration to 10.4%. The returned to 6.2% y/y.
This is an essential signal of continuing inflationary pressure. It clearly shows that the Bank of England's work to contain inflation is far from over.
As it turns out, it is still too early to say that inflation in the UK is on a sustained downward path. In the US and Canadian data, we have also previously pointed out that monthly price growth remains strong while annual inflation is falling due to a high base effect, as the first half of 2022 was the peak inflationary period.
Final prices are now rising mainly due to increasing labor and service costs, as raw material and energy prices are decreasing. and producer prices fell by 0.2% last month to 12.7% and 12.1%, respectively.
The Bank of England is set to announce its on Thursday. An increase of 25 points to 4.25% is expected. Today's data should be in the hands of the hawks on the committee, increasing the chances of a 50-point hike or at least a more hawkish signal on the next steps.
The big question is the health of the banking sector, but so far, the problems of UK banks have yet to make the headlines, leaving the central bank free to continue fighting inflation, supporting interest in the Pound.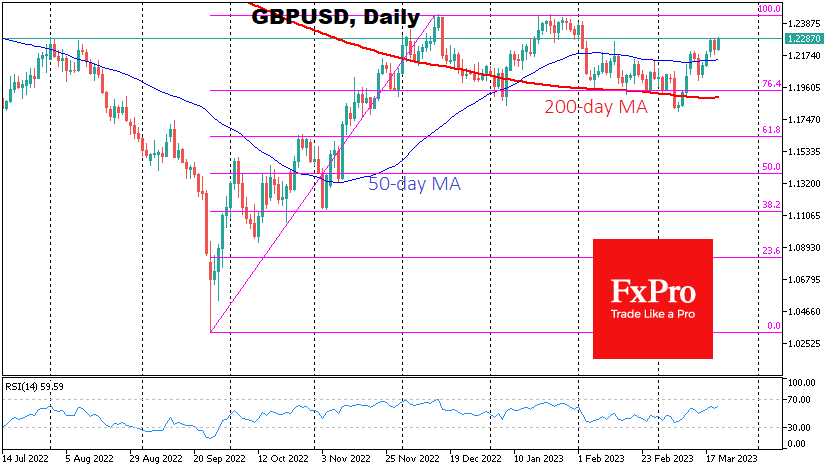 The is approaching 1.23 after a brief dip to 1.18 earlier this month, which we see as a tactical retreat ahead of fresh upside momentum. There is now a direct path to the December-January highs above 1.24. But this will only encourage the bulls and reinforce their belief that 1.3000 is within reach before mid-year.