We have seen some strong movement from the British pound this week, which is not surprising given the turmoil which has gripped the financial markets in the wake of the US banking crisis. In the European session, is showing little movement and is trading at 1.2119.
Big banks to the rescue
Market mayhem has been the buzzword this week, as the financial markets were shaken by the collapse of Silicon Valley Bank (SVB) over the weekend. The contagion spread and Credit Suisse, Switzerland's second-largest bank saw its shares tumble 30% on Wednesday. In the US, shares of First Republic Bank (NYSE:), a mid-size bank, sank after a run on the bank by depositors. The major US banks sprang into action, fearing that the contagion would spread to mid-size and small banks. Bank of America (NYSE:), Goldman Sachs (NYSE:) and others pledged to lend First Republic $30 billion. The rescue plan is unprecedented and nervous markets are hopeful that the crisis will not worsen.
The Fed and the US government are also watching developments with bated breath. Treasury Secretary Yellen told a Senate finance committee that the US banking system is "sound" and that there would be a review of what went wrong at SVB. For now, the big bank rescue plan has calmed fears and risk appetite has improved. Still, with bank shares moving up and down like a yo-yo this week, caution sounds like sound advice for traders.
The Fed holds its policy meeting on March 22nd and market pricing has been all over the map. Earlier in the week, it was a toss-up between a 25-basis point hike or a pause, according to the CME Group. The big bank rescue plan has shifted the odds to 79% for a 25-bp increase and 21% for a pause in hikes. I would not be surprised to see further market repricing ahead of the Fed meeting.
In the UK, there was some welcome news on the inflation front. Inflation Expectations eased to 3.9% in February, down from 4.8% in January and a 5-month low. Inflation is running at a 10.1% clip, but the drop in inflation expectations could signal that inflation is headed back into single digits.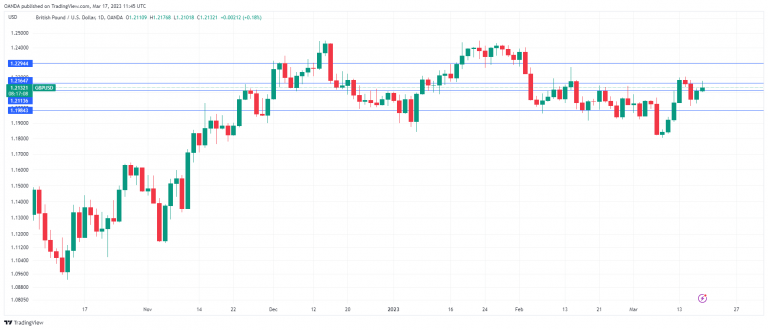 GBP/USD Technical
GBP/USD tested resistance at 1.2164 earlier in the Asian session. The next resistance line is 1.2294
There is support at 1.2113 and 1.1984