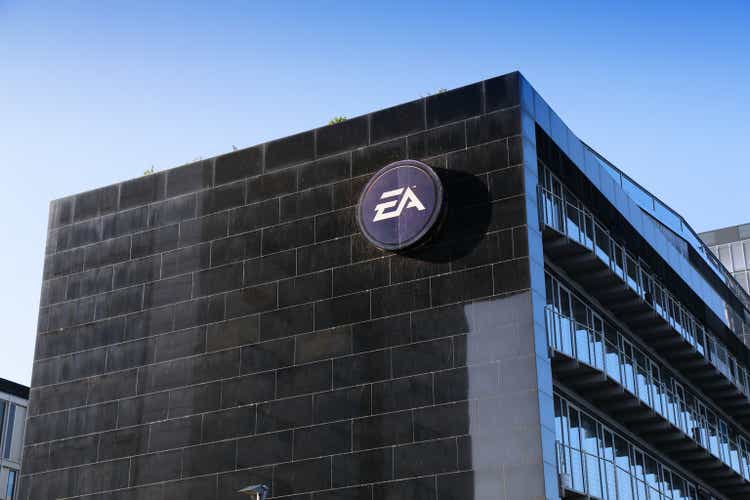 Investment Thesis: Electronic Arts could see low net booking growth through to the next quarter, and I do not see any particular bullish drivers for the stock at this time.
In a previous article back in December, I made the argument that Electronic Arts (NASDAQ:EA) could see some upside going forward if net bookings remain strong given an increasingly attractive P/E ratio.
The stock has recently seen a slump due to concerns over title delays as well as bookings coming in lower than expected in the most recent earnings quarter.
The purpose of this article is to assess whether Electronic Arts could have scope to rebound from here.
Performance
When looking at Q3 FY23 Financial Results, we can see that overall net bookings were down by 1% to $7.146 billion on a trailing 12 month basis.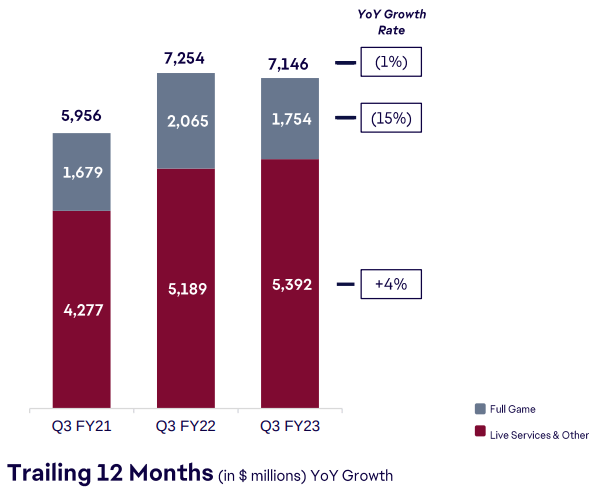 This is somewhat discouraging – especially as investors had hoped that sales of the FIFA 23 title during the World Cup would give a boost to overall net booking performance. While FIFA demand had helped to somewhat offset the decline in net bookings, performance of the Battlefield 2042 comp and Apex Legends gaming titles had led to a decline in net bookings overall.
With that being said, we can also see that while performance on a trailing 12 month basis was disappointing – total net revenue was up from that of the same quarter last year – while diluted earnings per share also saw a substantial rise.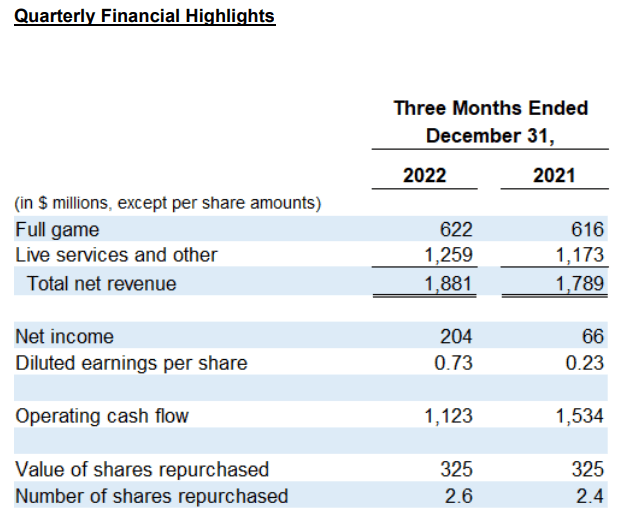 When looking at the stock's P/E ratio, we can see that while the P/E ratio has fallen significantly from highs seen at the beginning of 2022 – the ratio is still higher than that seen during the lockdown period of 2020 and earnings per share was substantially higher than at present.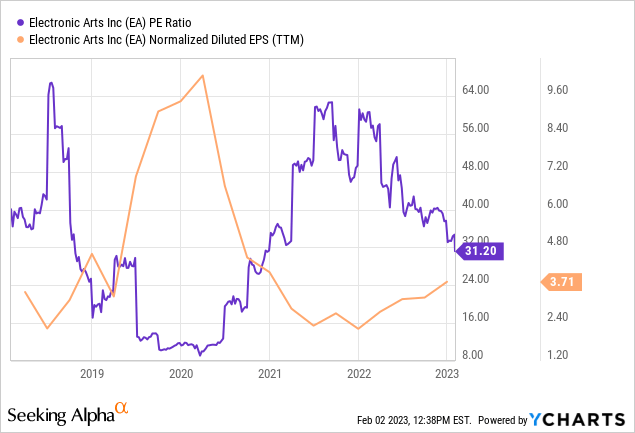 In this regard, there could be a broad consensus by investors that earnings growth ultimately peaked during the COVID-19 pandemic when stay-at-home regulations created strong demand for gaming. As such, the recent decline in net bookings has not been well received as it could indicate that earnings growth might be peaking for the foreseeable future.
From a balance sheet standpoint, we can see that the quick ratio for Electronic Arts still remains close to 1 – indicating that the company can still meet the majority of its total current liabilities using existing liquid assets.
| | | | | |
| --- | --- | --- | --- | --- |
| | March 2022 | June 2022 | September 2022 | December 2022 |
| Cash and cash equivalents | 2732 | 2082 | 1539 | 2202 |
| Receivables, net | 650 | 579 | 919 | 836 |
| Total current liabilities | 3513 | 2833 | 2561 | 3113 |
| Quick ratio | 0.96 | 0.94 | 0.96 | 0.98 |
Source: Figures sourced from Electronic Arts Q1 to Q3 FY23 Earnings Press Releases. Figures provided in USD millions, except the quick ratio. Quick ratio calculated by author as cash and cash equivalents plus receivables all over total current liabilities.
In my view, the general concern surrounding Electronic Arts is that net booking growth is ultimately reaching a saturation point at this time. For instance, net bookings on a trailing 12 month basis for Q3 FY23 are still substantially higher than that seen in Q3 FY21 at just over $5.9 billion – which is higher still than the $4.9 billion and $5.5 billion reported for Q3 FY19 and Q3 FY20 respectively.
Looking Forward
With the contribution of the FIFA gaming title to net booking growth having likely peaked after the World Cup at the end of last year – Electronic Arts is likely to come under additional pressure to sustain net booking growth across its other titles – which have seen modest performance in the most recent quarter.
Moreover, with a delay of the release of the Star Wars Jedi: Survivor title until the end of April, the prospect of a strong increase in net bookings in the upcoming quarter is not looking very promising at present.
While we have seen growth in earnings per share as compared to the same quarter in the previous year, a significant contributor to this has been lower operating expenses. As such, should we see expenses significantly outpace revenue growth – then this could in turn affect earnings growth which would cause risk of downside in the stock.
Conclusion
To conclude, Electronic Arts is seeing a plateau in net bookings and the stock may see little growth towards the next quarter if investors remain apprehensive on further growth prospects in this regard. I remain long Electronic Arts, but do not rate the stock as a buy at this time.